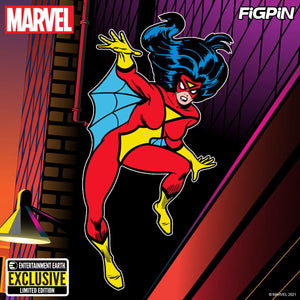 Entertainment Earth Exclusive!
Ripped from the pages of Marvel Comics, this 3-inch Marvel Spider-Woman FiGPiN Classic Enamel Pin - Entertainment Earth Exclusive is pin #728. Amazingly detailed and able to stand up on its own with the signature FiGPiN rubber backer stand, this cast zinc-alloy pin inlaid with hard synthetic color enamel is finished with an electroplated nickel coating. It comes displayed in front of a backer card, fully encapsulated in a ultra-collectible FiGPiN clear protector case. Order yours and build and share your collection! Ages 14 and up.
Also, enhance your FiGPiN collector experience with the unique ID code on the back of each pin. This code will provide cool details, such as the edition run, sequence number in the edition, artist bio, wave information, manufacture date, and rarity scale.